Product Description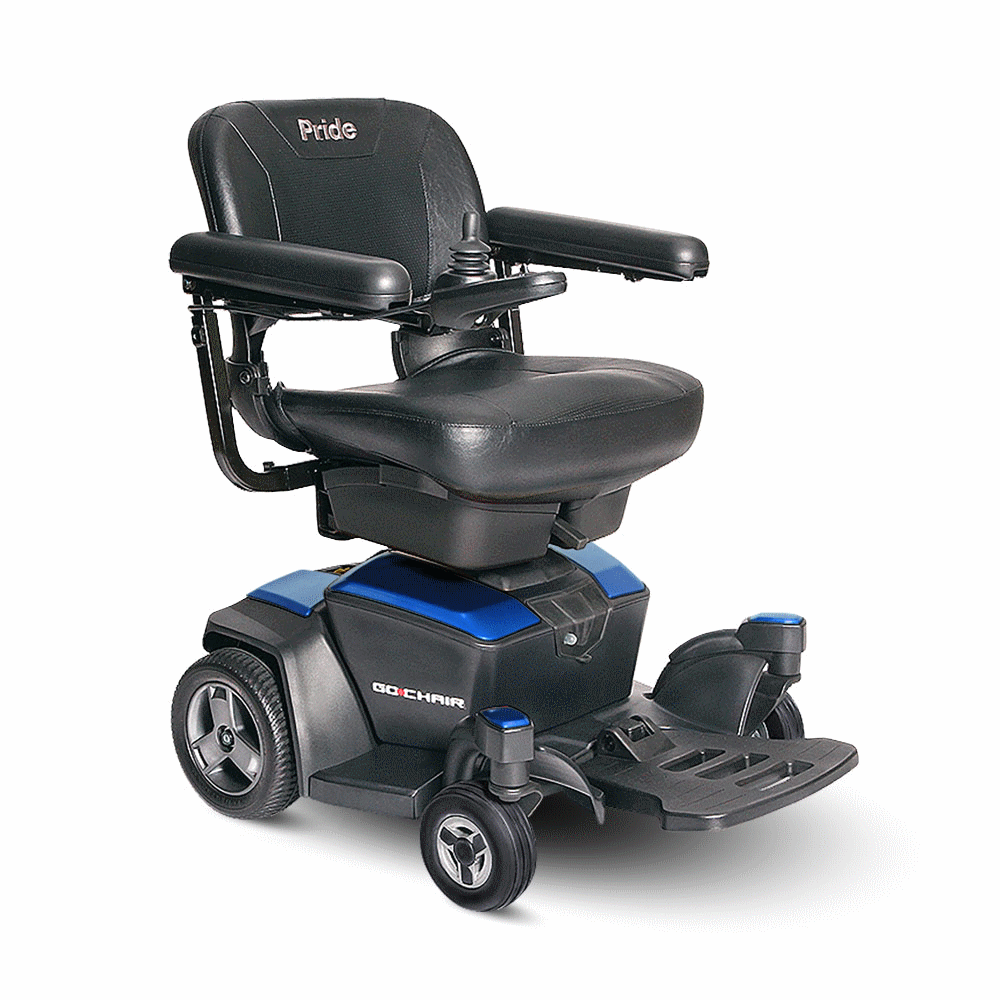 The Go-Chair has been a long-time customer favorite of the Pride Mobility lineup, so with a revamped design and even better features, the newly updated Go-Chair is sure to keep its crowd-pleasing reputation.

What Makes This Different

The Go-Chair now features two 18AH batteries for an extended drive range of up to 8.74 miles on a single charge. With a turning radius of just 25.4" (25.4" with footplate down, 22.25" with footplate up), the new Go-Chair has even better maneuverability than before. You can confidently take your Go-Chair anywhere knowing it will navigate through tight spaces or crowded places. The Go-Chair easily disassembles into 6 small, lightweight pieces for convenient transport. With the Go-Chair you'll travel in comfort. The roomy stadium-style seat is comfortable and features flip-back armrests that are both height and width adjustable so you can get on and off of the Go-Chair without hassle. The new Go-Chair design offers two separete storage compartments beneath the seat, so you can securely stow personal belongings while you're on-the-go.
Go-Chair®

BY PRIDE MOBILITY
Get out there in style with the all-new Go-Chair.
The all-new Go-Chair is re-engineered from the ground up, offering a bold new style available in an array of contemporary colors.
Enhanced performance and comfort, along with feather-touch disassembly, allows you to enjoy light-weight travel and independence on the go.
With an increased weight capacity of 300 lbs. and a sleek, bold look, the new Go-Chair makes travel easy.
Number one for portability

Choice of 6 colors

18" x 17", 5-point swivel seat with latch release

Increased 300 lb. weight capacity

Faster speed - up to 3.7 mph

Larger, 18 amp batteries

Improved agility - longer wheel base; wider stance; compact turning radius 25.4"

Dual swing-away, under seat storage bins

Larger, height & width adjustable armrests

Larger footplate

One hand feather-touch disassembly

60" lap belt
Go-Chair Key Features
Comfortable Seating
18"x17", 5 point swivel seat with height and width adjustable armrest
Built-In Storage
Dual swing-away, under seat storage for added convenience
Feather-Touch Disassembly
Simple frame separation with only one hand easily disassembles into three super-lightweight pieces for convenient transport and storage
Maximum Foot Space
Large footplate for comfortability
Testing Standards & Warranty
Testing Standards
Meeting and Exceeding High Standards for your Peace of Mind.
Your Pride product has undergone thorough product testing to ensure safety, durability and performance.
Our power chairs, scooters and lift chairs are Food & Drug Administration (FDA) approved medical products that require specific testing prior to release for public use.
The testing requirements accepted by the FDA were developed by the American National Standards Institute/Rehabilitation Engineering & Assistive Technology Society of North America (ANSI/RESNA).
The tests are conducted in accordance with the requirements of the ANSI/RESNA Test Standards and complement an additional stringent testing regiment developed by Pride's Research & Development Team.
All products have passed, and in many cases, exceeded test criteria set forth, assuring the high level of quality synonymous with Pride.
Some of the items our testing criteria include are:
Product Stability & Brakes Effectiveness Tests
Fatigue & Impact Strength Verification Tests
Overall Product Performance Verification
Dimensional Requirement Compliance
Product Durability & Reliability Testing
Material Protective Coating Testing Verification
Misuse and Abuse Testing
Ergonomic Verification
Environmental Testing for Adverse Weather Operation Conditions
Electronic Systems Performance and Durability
Chemical and Bio-Contamination Analysis Testing for Toxicity Verification
Cal 117 Flammability Test Compliance for Seating Foam and Fabric Components
UL94VO Flammability Testing for Compliance of Plastic Components
Electromagnetic Compatibility (EMC)
Warranty
5-Year limited warranty on frame
13-month limited warranty on electronics
13-month limited warranty on drive motors
---
Other Details
Length:
28.5" without front rigging | 33" with front rigging
Maximum Speed:
Up to 3.7 mph
Front Wheels:
6" solid casters
Rear Wheels:
3" solid anti-tips
Standard Electronics:
40 amp, PG GC3 (non-programmable)
Battery Size (2 Required):
18 AH, 12 V, deep-cycle
Standard Battery Charger:
Off-board, 2 amp
Per-Charge Range:
Up to 8.7 miles
Battery Weight:
14 lbs. each
Weight of Heaviest Piece:
36 lbs. (Rear)
Standard Seat Weight:
30 lbs
Standard Seat Size:
Compact, Foldable (18" x 17")